About Gordon Kamisar, Esq.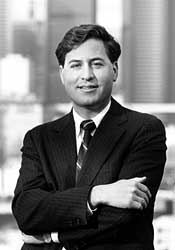 Gordon is a graduate of Duke University Law School and is licensed to practice in three jurisdictions including the State of Washington. He has a B.A., with distinction, in Psychology from the University of Michigan. Before becoming a search consultant, he worked at McCutchen, Doyle, Brown & Enersen in San Francisco and Donovan, Leisure, Newton & Irvine in New York City. Gordon interviewed numerous attorney applicants while on the hiring committee of a Washington D.C. law firm

As an attorney, Gordon has gained substantial expertise in intellectual property and computer law. He also was involved in litigating such cutting edge issues as whether computer languages are protectable under the copyright laws. In 1988 he wrote "Dispelling Common Misconceptions and Confusion About Copyright Protection" which appeared in the American Bar Association's Barrister Magazine. In 1994 he co-authored "Who Really Owns 'Your' Software Programs?" which appeared in the June issue of The Software Practitioner. Gordon has been an active member of the Copyright Subcommittee of the American Bar Association (ABA)'s Committee on Computer Programs, the ABA's Committee on Computer Litigation, and the Committee on Electronic & Computer Law of the American Intellectual Property Law Association (AIPLA). His biography is included in Who's Who in American Law.

Gordon's insight as an attorney, his contacts in various major cities, his experience as a participant on both sides of the hiring process, and his expertise in emerging areas of the law enable him to provide valuable services as a legal search consultant.

Mr. Kamisar has also served as an expert witness on the subjects of attorney employability, attorney marketability, attorney compensation, attorney job search analysis, and attorney hiring practices. He has been deemed qualified as an expert in trial court, and has experience testifying in depositions and at trial.



---
&copy 1999 Kamisar Legal Search, Inc.
Gordon A. Kamisar, Esq.